Biotechs are based on a promising platform, modality, or scientific pathway. However, you still need to queray and integrate the right ancillary data resources regarding genetics, target history, semantic parse of literature, genomics, and druggability to make informed decisions on which targets and molecules to prioritize. These early decisions are crucial to your success and missteps can prove calamatious. Good decisions require 1) an in-depth understanding of the platform and therapeutic area, 2) interpretation of the relevant genetics and literature data, 3) experience making drug discovery decisions using complex data. While the biotech has the expertise and resources on platform and therapy area, it often lacks the genetics/literature data and its interpretation. We have a built an analytical platform to help you rapidly prioritize across all targets using our data integration, expertise, and consultation. Please contact us to initiate a discussion.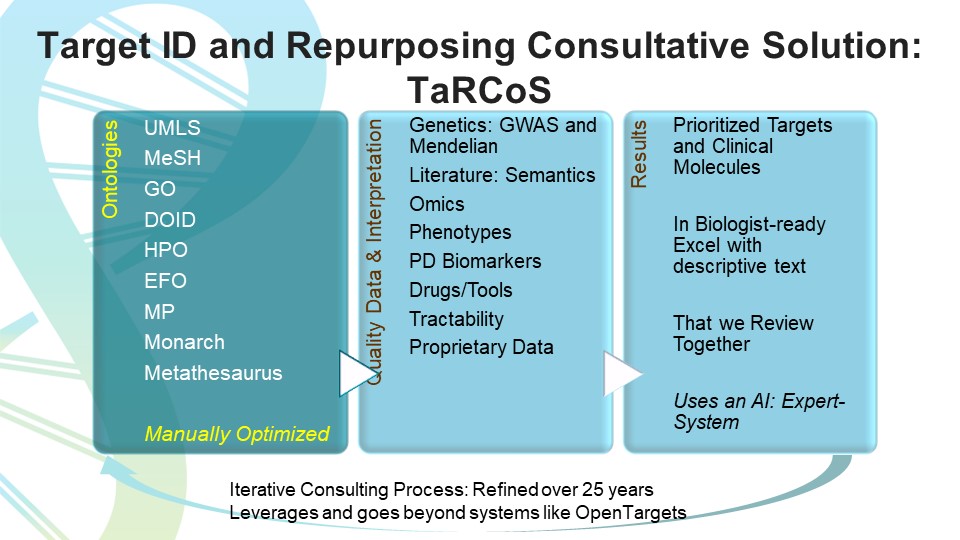 Other services offered include:
Recruiting the impossible to find expert based on their science.
Indication evaluation or expansion for your (pre)clinical asset.
Evaluation of molecular biomarkers for an indication.
Pharmacodynamic biomarkers for your drug.
Each of these is supported by proprietary data builds, analytics, and consulting to provide clean solutions to biotech challenges. We specialize in non-oncology indications and rare diseases.